Managing Your Online Account
The Civic Center is a fully mobile ticketing venue. Learn how to manage your online account and mobile tickets with our quick step-by-step instructions.
Managing Your Online Account
Activating Your Online Account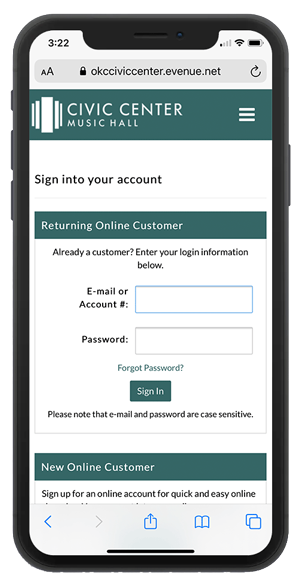 To activate your online account, you must have your customer number and online pin. You can request that online. Once you have received your customer number and pin, follow the step-by-step instructions below.
On the activation screen, enter your customer number and pin. You should have received these from tickets@okcccf.com. If you receive an 'Email Already in Use' error, this means you have previously logged in to your account and need to reset your password.
Confirm your email and create your password. These will be used for future logins. Passwords should be 8-12 characters with at least 1 upper-case letter and 1 number.
Review your billing address and phone number.
The account activation is complete. The page will redirect to your account overview where you can review your upcoming events and manage your tickets.
Manage your personal information in your online account. Log in to your account and then click or tap 'View Account & Settings' and 'Account Settings.'
Visit the 'Forgot Password' page and enter your email. If your account is located, you will be emailed a temporary password.
Enter the temporary password in the field provided.
Create a new password. Passwords should be 8-12 characters with at least 1 upper-case letter and 1 number.
Review your order history in your online account under the 'My Tickets' menu. Events are listed in chronological order and grouped by year and resident arts organization. You can sort by exchanges, item packages, renewals, returns, order date and event date. View pricing, event and seat information in any purchased item's details.
---
Renew Season Tickets Online
Online season renewals are available for select resident arts organizations. If available, Season Renewal Applications are available in your online account.
View 'Season Renewal Application' menu
Select 'Online Renewal - New Application'
Confirm your package and quantity and select location and item preferences, if applicable
Add additional items or make a donation, if available
Review your selections and select 'Add to Cart'
Select your delivery method
Confirm your date, time, and delivery method selection. Complete your payment and place your order.
Note: A small deposit charge may be posted to your account. An additional payment or payment plan will be charged on the next billing cycle date.
---
Transferring Your Tickets
If you can no longer attend a show or would like to gift tickets, transfer your ticket online with just an email or phone number. Please note transferring tickets makes them ineligible for refunds or exchanges.
View the 'Transfer Tickets' menu under 'Manage My Account'
Select your tickets to transfer by clicking or tapping the checkbox next to the seat location
Enter the mobile number or email of your intended recipient
Review the order and contact information carefully. Once satisfied, click or tap the 'Transfer Tickets' button
The transfer has been initiated. The recipient must accept the tickets to complete the transfer
There is no deadline for recipients to accept a transfer. You can cancel the transfer before the transfer is accepted by visiting the 'Pending Transfers' menu in your online account.
Accepting a Ticket Transfer
If you have received a ticket transfer, you can accept the transfer easily from your smartphone or desktop.
Click or tap the 'Accept Transfer' button in the text message or email
Accept or decline the transfer on the subsequent webpage
Sign in or create an online account
Once you have successfully logged in, your tickets will be transferred to your account. Download the tickets to your smartphone's wallet for easy access.
---
Managing Your Mobile Tickets
Download Your Tickets from your Delivery Email
Open the email you received from tickets@okcccf.com. You may need to check your spam or junk folder
Tap the linked event name
Tap the 'Add Tickets' button to add the tickets to your Apple Wallet or Google Pay app
Tap 'Add/Add All' or 'Save/Save All' when presented with your tickets to save them to your device
Download Your Tickets from Your Online Account
Navigate to the event for the tickets you want to download in the 'My Events' section
Tap the 'Add Tickets' button to add the tickets to your Apple Wallet or Google Pay app
Tap 'Add/Add All' or 'Save/Save All' when presented with your ticket to save them to your device