Directions & Parking
Arts Festival Road Closures & Parking
Please be advised roads immediately surrounding the Civic Center are closed for the Festival of the Arts. We recommend arriving 30-45 minutes prior to your performance.
Couch and Colcord Drives are closed
Lee Ave and Walker Ave between Couch & Colcord Drives are closed
Street level lots immediately surrounding the Civic Center may be accessible from Robert S Kerr or Main St, but are on a case-by-case basis and are not managed by the Civic Center.
The Arts District Garage & Sheridan Garages are available for parking and are a short walk from the Civic Center.
Some ADA Parking & drop off for patrons with limited mobility should take place in the Ball Morse Lowe lot just north of the Civic Center, between Couch Dr and Robert S Kerr Ave. Patrons can cross Couch and utilize the ramp at the north east corner of the building for access. Drivers should enter and exit on Robert S Kerr.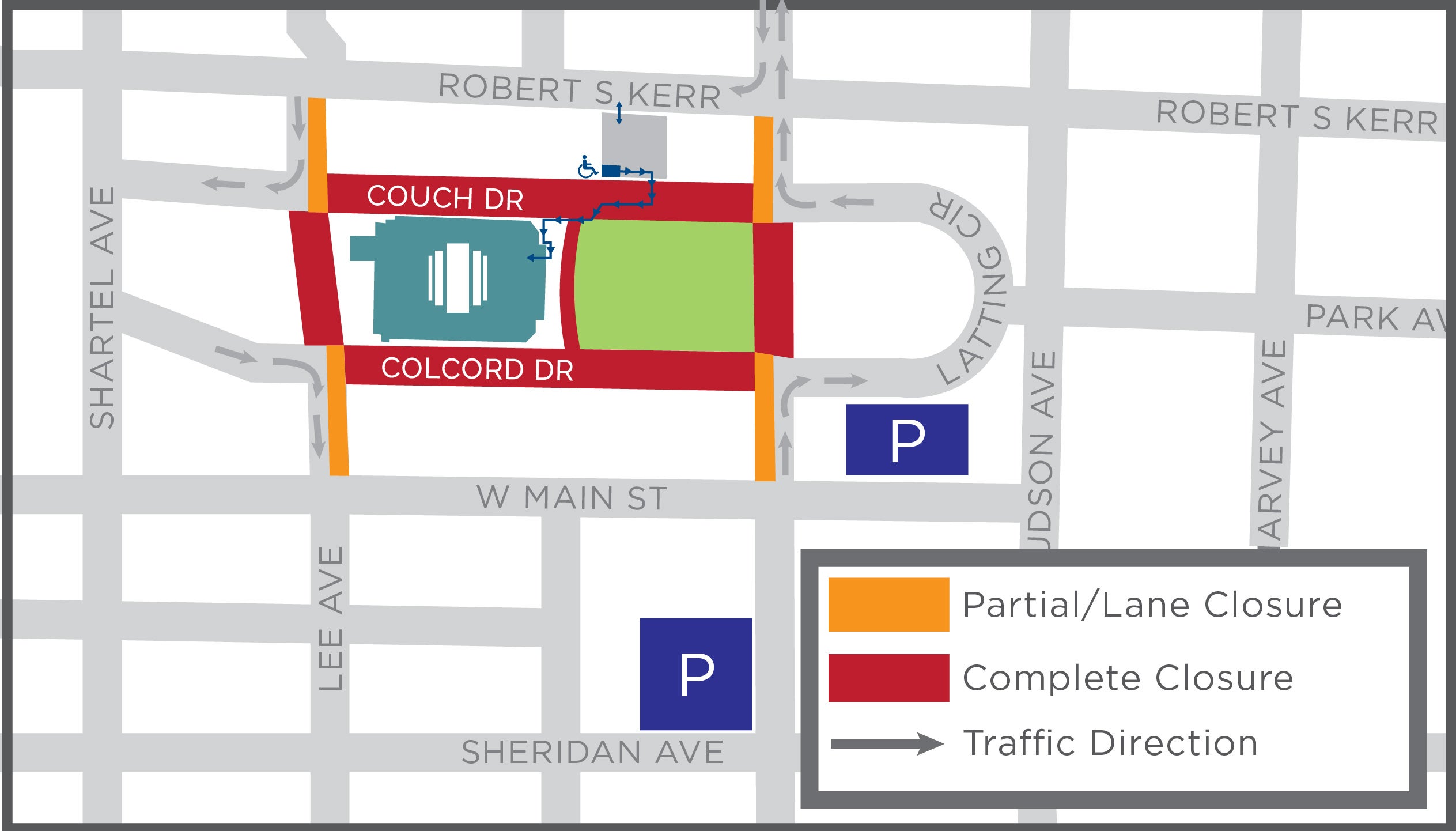 The Civic Center is located at 201 N Walker Ave in downtown Oklahoma City.
View traffic conditions and current road projects near the Civic Center on the City of Oklahoma City's Public Works page.
Parking
Street-level parking spaces are available along Couch and Colcord Drives, at mostly no cost for events. Parking is also available in private pay lots surrounding the Civic Center. In most cases, private pay lots only accept cash. The Civic Center does not control pricing for private pay lots or parking garages.
Parking is also available at the Arts District Garage and Sheridan-Walker Garages, which are just a short walk from the Civic Center. Visit parkingokc.com to learn more.